PLEASE READ BEFORE BIDDING:
OUR POLICY IS CURRENTLY TO OFFER AN ADDITIONAL TWO SEED BONUS( FROM THE SAME CROSS PURCHASED) FOR PAYMENTS RECEIVED IN TEN DAYS OR LESS.  WE ARE MODIFYING THAT POLICY ON AUCTIONS CLOSING NOVEMBER FIRST AND LATER TO INCLUDE AN ADDITIONAL SEED FROM THE PURCHASED CROSS, FOR PAYMENTS MADE WITH CHECKS OR MONEY ORDERS, FOR A TOTAL OF A THREE SEED BONUS.  PAY PAL PAYMENTS RECEIVED IN TEN DAYS OR LESS STILL QUALIFY FOR A TWO SEED BONUS.  WE HAD A GREAT SEED MAKING SEASON TO MAKE THIS ALL POSSIBLE.  WE ARE MAKING THIS OFFER TO THOSE WHO HELP US KEEP OUR PAY PAL COSTS UNDER CONTROL.  THOSE MAKING CHECK OR MONEY ORDER PAYMENTS NEED ONLY HAVE THE PAYMENT POST-MARKED WITHIN THE TEN DAY PERIOD TO QUALIFY.
AUCTION IS FOR 4 SEEDS OF THE CROSS OF BEASTMAN X VAN HELSING.  
POD PARENT:

Beastman        
(Gossard, James)  2013 introduction
(Heavenly Velocirapter) x (Outer Limits)
Tetraploid 27" Mid Late season  Dormant emo fr 7- 8.5" 3 way branching  15-18 buds. Fertile both ways. Rebloomer
Flowers of Beastman are rust red with a darker rust red eyezone. Sepals and petals are edged in claws, fangs, teeth, and tentacles. The color of the teeth can vary depending upon position.  Has a yellow  throat. Beastman has the biggest and most consistent teeth, bloom season after bloom season. Some of the teeth and tentacles can be over an inch in length.     ........$200 single fan..$300 Double fan
POLLEN PARENT: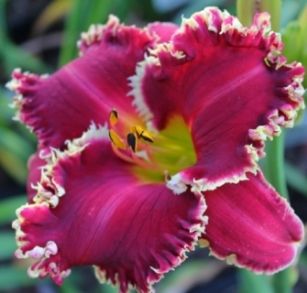 Van Helsing
2012 Jr. Citation Winner
(2013 Polston) 26" 5.5" 4-5 Way Branching. 25 Buds.  Dor, Tet.
Professor Abraham Van Helsing is a fictional character from Bram Stoker's 1897 Gothic horror novel Dracula.
"Van Helsing" is another stand-out in a continuing series of toothy daylilies from Pleasant Valley Gardens.
What makes this one introductory quality is it's clear vibrant red color, it's white teeth coupled with
4-5 way branching and high bud count.  "Van Helsing" is producing outstanding seedlings which inherit the white teeth
Fertile Both Ways.............................................. Collection Only SFV
SHIPPING WILL BE BY USPS FIRST CLASS MAIL.  SEEDS ARE SHIPPED IN ZIP-LOCK BAGS ROLLED IN BUBBLE WRAP AND SENT IN A PADDED MAILER.  WE CAN COMBINE UP TO 15 PACKETS IN OUR PADDED MAILERS FOR ONE SHIPPING FEE.  SHIPPING FEES ARE $3 FOR UNITED STATES SHIPMENTS AND $6 FOR ALL INTERNATIONAL SHIPMENTS. 
WE WILL PROVIDE FREE SHIPPING TO ALL DOMESTIC ORDERS TOTALING $200 OR MORE AND ALL INTERNATIONAL ORDERS TOTALING $300.