AUCTION IS FOR 4 SEEDS OF THE CROSS OF LEMON RASPBERRY DELIGHT X VAN HELSING.  THERE WILL BE A BONUS OF 2 SEEDS FROM THE SAME CROSS IF THE AUCTION PAYMENT IS RECEIVED IN 10 DAYS OR LESS.  

POD PARENT:
LEMON RASPBERRY DELIGHT    
(Bushong, G)  TET  Heavenly Pink Fang x White Fang
16" M Dormant    5" 3-4 way branching  15-20 buds.  Fertile both ways.
Unlike tall flowers that attract your attention from across the garden Lemon Raspberry
Delight  waits until you walk up to it before it springs its wonderous blooms on
you.  The flowers are a raspberry red with a green throat merging into a yellow green
eyezone.  The edge is near white and yellow with numerous teeth on the petals and sepals.
Though the scapes are short they are all top branched and a lot of the flowers open "up".
Planted on the border of your flower bed it makes a nice suprise when you walk past it.
The photo on the right shows some extra toothy petals that emerge from the center of
the flower.  It doesn't produce these extra petals every time but they are unusual
enough to consider. VERY LIMITED quantities. ........$200
POLLEN PARENT: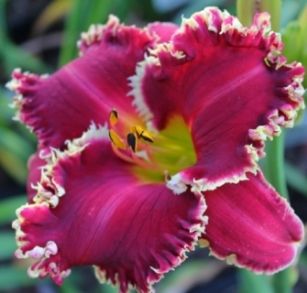 Van Helsing
2012 Jr. Citation Winner
(2013 Polston) 26" 5.5" 4-5 Way Branching. 25 Buds.  Dor, Tet.
Professor Abraham Van Helsing is a fictional character from Bram Stoker's 1897 Gothic horror novel Dracula.
"Van Helsing" is another stand-out in a continuing series of toothy daylilies from Pleasant Valley Gardens.
What makes this one introductory quality is it's clear vibrant red color, it's white teeth coupled with
4-5 way branching and high bud count.  "Van Helsing" is producing outstanding seedlings which inherit the white teeth
Fertile Both Ways.............................................. Collection Only SFV
SHIPPING WILL BE BY USPS FIRST CLASS MAIL.  SEEDS ARE SHIPPED IN ZIP-LOCK BAGS ROLLED IN BUBBLE WRAP AND SENT IN A PADDED MAILER.  WE CAN COMBINE UP TO 15 PACKETS IN OUR PADDED MAILERS FOR ONE SHIPPING FEE.  SHIPPING FEES ARE $3 FOR UNITED STATES SHIPMENTS AND $6 FOR ALL INTERNATIONAL SHIPMENTS.  WE WILL OFFER FREE SHIPPING TO ALL DOMESTIC ORDERS TOTALING $200 OR MORE AND ALL INTERNATIONAL ORDERS TOTALING $300.  WE PREFER PAYMENT BY CHECK OR MONEY ORDER BUT WE WILL ACCEPT PAYPAL.