AUCTION IS FOR 4 SEEDS OF THE CROSS OF PREHISTORIC BEAST X VAN HELSING. THERE WILL BE A BONUS OF 2 SEEDS FROM THE SAME CROSS IF THE AUCTION PAYMENT IS RECEIVED IN 10 DAYS OR LESS.

POD PARENT:
Prehistoric Beast
(Gossard, James) 2012 introduction
(Sword Dancer ) x (Saber Tooth Tiger )
Tetraploid 28" Mid season Dormant emo fr 8.5" 3 way branching 18 buds. Fertile both ways. Rebloomer
Flowers of Prehistoric Beast are a light orange bitone with a darker orange eyezone and edge. Some of the tenticles can be a inch long. A very good parent for hybridizing orange toothy daylilies with darker orange and red teeth.
POLLEN PARENT: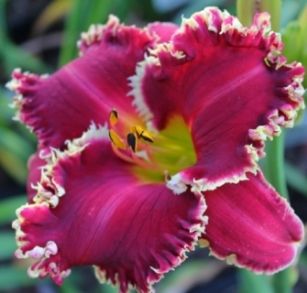 Van Helsing
2012 Jr. Citation Winner
(2013 Polston) 26" 5.5" 4-5 Way Branching. 25 Buds. Dor, Tet.
Professor Abraham Van Helsing is a fictional character from Bram Stoker's 1897 Gothic horror novel Dracula.
"Van Helsing" is another stand-out in a continuing series of toothy daylilies from Pleasant Valley Gardens.
What makes this one introductory quality is it's clear vibrant red color, it's white teeth coupled with
4-5 way branching and high bud count. "Van Helsing" is producing outstanding seedlings which inherit the white teeth
Fertile Both Ways.............................................. Collection Only SFV
SHIPPING WILL BE BY USPS FIRST CLASS MAIL. SEEDS ARE SHIPPED IN ZIP-LOCK BAGS ROLLED IN BUBBLE WRAP AND SENT IN A PADDED MAILER. WE CAN COMBINE UP TO 15 PACKETS IN OUR PADDED MAILERS FOR ONE SHIPPING FEE. SHIPPING FEES ARE $3 FOR UNITED STATES SHIPMENTS AND $6 FOR ALL INTERNATIONAL SHIPMENTS. WE WILL OFFER FREE SHIPPING TO ALL DOMESTIC ORDERS TOTALING $200 OR MORE AND ALL INTERNATIONAL ORDERS TOTALING $300. WE PREFER PAYMENT BY CHECK OR MONEY ORDER BUT WE WILL ACCEPT PAYPAL.